American Heritage-Delray Walks Off With Shootout Championship
Photo Gallery
The 2018 HSBN March Madness Shootout championship is a game that will be remembered for a long time to come. From Ben Vespi's first pitch to start the game to the final swing that ended it, the American Heritage-Delray Stallions and the Mater Lakes Bears played like champions in pursuit of the coveted tournament title. Following enough big moments to fill an entire highlight reel and use up all ten slots of a daily Top Ten of the best plays, Stallions sophomore Jacob Lojewski delivered a walk-off solo home run in the bottom of the eleventh inning to give American Heritage-Delray a 5-4 title victory in a game played at Davis Field in Oakland Park.
"There is not much I can say; it is just a great feeling," Lojewski said. "I was looking for a fastball, but then I was 0-2 so I was expecting a curveball. But I got a fastball and I just jumped on it. This game was tiring but all the big plays just got our energy back up and we kept playing. It was just a great team win. The game before we were in extras too and we went on top. We just fight to the end and we never give up."
Lojewski came to bat with one out in the bottom of the eleventh on a night where he had gone hit-less thus far. The second baseman had sent a liner up the middle in the sixth inning that probably should have gone for a base hit, except Bears shortstop Christhian Caro got a glove on it and made a putout on a ball few defenders ever would have fielded. Yet all those previous at bats only served as a reminder of how special the game of baseball is that a tough day at the plate can not only turn around a player's day, but that same swing now delivered with it a tournament championship.
"It was an unbelievable game in an unbelievable tournament. I'm really proud of the guys that they hung in there," Heritage-Delray manager Carm Mazza said. "We pitched the heck out of it and it was an unbelievable game. Mater Lakes has a great team over there and they did an awesome job. You need games like this, for the playoff runs later on. You're going to play great quality teams like they are and they didn't give up. They battled against good arms and you can't say enough about what they have done. It was just a great, great job by our guys. It was a fun game to watch and you just root for the kids real hard. These kids really wanted it, and it's nice to be on that side of it."
Extra innings seemed a foregone conclusion from the start by the way the two sides exchanged punches. Both defenses made several special plays in huge moments, with defenders diving around the field all throughout the action and the two sides leaving afterwards looking more like they were coal miners than high school ball players. Although there were several clutch hits, the pitching was dominant on both sides to record enormous outs when needed the most. Nothing in the game was earned the easy way.
"The game was an outstanding game, eleven innings, and we only had one error and I think they only had one error. You can't ask for much better than that in high school baseball," Mater Lakes manager Cesar Temes Jr. said. "It was solid defense on both sides, and solid pitching. They tried doing everything and we tried doing everything. It was an outstanding game, but it was also well-played on both sides. Every time they were up, we came back. We took the lead, they came back. Our guys can't put their heads down; it was an outstanding game. It looked like playoff baseball with every execution every inning, and both sides too, not just us. They had great coaching and they look like they are a well-disciplined team. Everything was done like a true baseball game and it was just a great played baseball game."
Temes Jr. was absolutely correct, as whenever one side scored the other team matched the exact amount of runs in that same inning. Leading up to the final run of the night, the rest of the line score reads exactly identical. It serves as just another example of how each club handled what was thrown at it and responded back with a blow of its own. The innings that runs were scored nearly served to break things up like they were rounds of a title boxing bout.
Each team scored one run in the opening round, the first inning. Andy Martin was hit by a pitch and scored when Denzel Hernandez ripped an RBI single past the shortstop to put Mater Lakes up right away. The Stallions got one right back as Troy Hamilton led off with a double to left and came around to score when Carmine Lane put a tomahawk swing on a high pitch and lined it into right field for an RBI base hit.
The second round of runs came in the third inning. Adrian Perez singled with one out, advanced to second on a throwing error, to third on a passed ball and then scored thanks to another RBI single from Denzel Hernandez. Chris Ferara then needed just one swing to tie it back up for the Stallions, as he crushed a solo home run to left field in the bottom of the frame.
After tracking down a fly ball near the right field line for a nifty and unexpected catch that ended a threat in the fourth, Denzel Hernandez then collected his third base hit of the night to put two base runners on after Martin also reached on an error at the start of the third round of scoring in the fifth inning. Bears 6'6″ first baseman Lazaro Lapeira next did the unexpected when the massive hitter dropped down a perfect sacrifice bunt on the infield grass that advanced both runners. After Caro was hit by a pitch that loaded the bases, Ryan Reyes put the ball in play and reached on an error that plated two runners.
Heritage-Delray maintained the trend and evened things back up with two runs in the bottom of the fifth. Ferara walked, Ryan Bruno followed with a single to left and was replaced on the bases by Jaden Bruno, and Stanley DiMartinis dropped down a great sacrifice bunt that left the defense with no play and instead loaded the bases. A ball to the backstop brought Ferara in and Bailey Uderitz plated another with an RBI groundout on a slow roller up the middle.
Although both sides continued to throw punches and put men on base, the next several rounds all scored to a draw on the fight card. Both sides went deep into their bullpens and continued to receive quality pitches. After Ben Vespi struck out seven in four-and-two-third innings, Dylan Lloyd, Ryan Bruno and winning pitcher Kevin Shulman all held the line for Heritage-Delray with six scoreless innings. In turn, Mater Lakes starter Raul Alvarez struck out six in his first career start while allowing two earned runs in four innings, and Anthony Paulino and Bastyan Hernandez combined for five scoreless relief frames.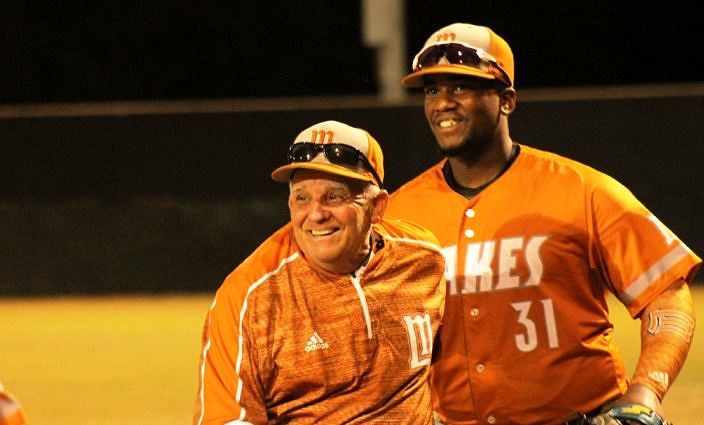 For the Stallions, it was the second extra-inning game they played to a total of 21 innings during the March Madness Shootout. The team had to rely on every player and utilize a lot of depth to survive, and every one of them stepped up to do their part. Coming off a season that ended in the state Final Four, the Stallions certainly played the sort of quality, team baseball that generally ends with a state title to celebrate it.
"Ten innings, eleven innings, close games all the way through; this is what we need," Mazza said. "We need to keep getting better and better and put good swings on the ball. We're playing good defense and we pitched great. We had a great tournament on the mound. Overall it was a great job in a tough tournament to win."